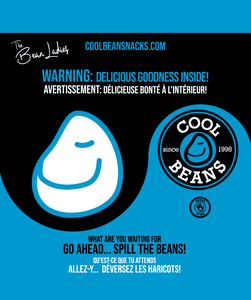 'Bare Naked' Roasted Bean Snacks
Regular price $8.00 $7.50 Sale
'Bare Naked' CRISPY CRUNCHY Roasted Soy Bean Snack 
The Bean Ladies 'Bare Naked' roasted soybeans satisfy that crunchy snack craving with no spice or flavour just that simple, lovely, nutty flavour with the healthy protein and fibre soy beans are known for. 
Roasted soybeans are a crunchy snack that's actually good for you. Soybeans are the only plant food that contains a complete protein. In other words, they contain all the essential amino acids necessary for human health. In fact, the amino acid profile of soy is very close to that of animal products like meat, eggs and milk.
Our roasted soybeans are a crispy, crunchy, healthy snacking alternative to traditional grab and go snack foods like chips.  A nutritional powerhouse packed with 10g of plant protein, 5g of fibre and less than half the fat of potato chips per serving!
A nutritious anytime snack or as a great protein and fibre addition to your next 'power bowl', salad, yogurt topper or school lunchbox. 
gluten free
vegetarian
non-gmo
hand made